Citynet sponsors Springfield Football Club under 14's girls team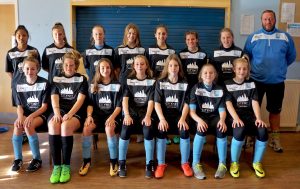 It is no secret that here at Citynet Insurance Brokers, we love being engaged in the community life. This is demonstrated by supporting numerous sporting clubs that need a bit of extra help to support kids to do what they love most. Our latest sponsorship goes to Springfield Football Club in Chelmsford, Essex and more exactly to the under 14's Girls Football team.
Springfield Football Club has a long and proud history of providing football in the community. Founded in 1935, the club moved from its previous home at Pollards Meadow to a new, purpose-built clubhouse and ground at Springfield Hall Park, in 2002.
The club continues to grow and is represented in the Essex Olympian League, The Essex Veterans League, The Chelmsford Sunday League, The Chelmsford Youth League, Blackwater & Dengie Youth League, Brentwood Community Football Alliance, and the Essex County Girls Football League.
The club provides football for ages from 6 years up to our Veterans Over 45's and at all ages in between. We are especially proud to be an F.A. Charter Standard Club and are run entirely by volunteers.
The Girls Under 14's team are in their 5th season and they won their first cup last season, the Under 13's Presidents Cup. The club now has girls teams from the ages of under 8's to Under 14's. They also currently run 33 junior boys teams.
"Springfield FC Under 14's are very pleased to have teamed up with Citynet Insurance Brokers, our first Shirt Sponsors within the girls' section of the club. Thanks to all at Citynet, let's hope we can do you proud!" commented the club management.
Read Our Latest Stories
Andrew Walsh is named Chief Executive Officer of Citynet
Read More >>
New brand and new home for COBRA London Markets who join forces to become known as Citynet Insurance Brokers.
Read More >>