CONSTRUCTION INSURANCE
Since 2018, the construction insurance market has undergone an acute change, transitioning firmly out of a very soft market. In 2020, contractors were prudent about their business prospects. But no one was prepared for the across-the-board disruption caused by the pandemic or the aftereffect that is felt well into a 2022 hardening market.
In addition to placing construction coverages, we are also specialists within the high-risk construction sector providing concrete insurance solutions where your local insurance markets are unable to assist. Being a wholesale Lloyd's broker, with a proven track record in providing bespoke insurance solutions for the past two decades, we strongly believe insurance is about more than simply being there to pay the claim, it's about relationships, acting with integrity, honesty, and transparency, continuously striving to help our customers and be better than we were yesterday.
Quick, quality cover tailored to trade and construction

Our aim is to build you the right construction insurance policy to suit your clients' needs

We believe in a personal approach as this is the key to building long-lasting relationships with our clients

Unparalleled access to both Lloyd's Syndicates and London Company Markets
WHO IS IT FOR

Our facilities are designed to cater for a wide range of construction and contracting trades on both annual and project basis. Policies can be written in the name of the contractor, principal, or joint names, depending on the requirements of your client.
Target trades include but are not limited to:
Basement Contractors
Bricklayers/Ground workers
General builders including enabling works
Carpentry & Joiners
Roofing/Scaffolding
Steel erection
Construction plant maintenance & repair
Electricians
Flooring contractors
Civil engineering
Office and shop fitting
Demolition contractors
Painting & decorating
Insulation contractors
Roller shutter installation
Shelving and racking installation
Lighting conductors / Installation
Plumbing, HVAC, Ductwork
Stone and Masonry cleaning
Plastering/Dry lining/Ceiling contractors
Piling/Underpinning
Concrete Bursting, Cutting, Finishing
Pouring, Repair & Drilling
Formwork, Shuttering
Cladding Contractors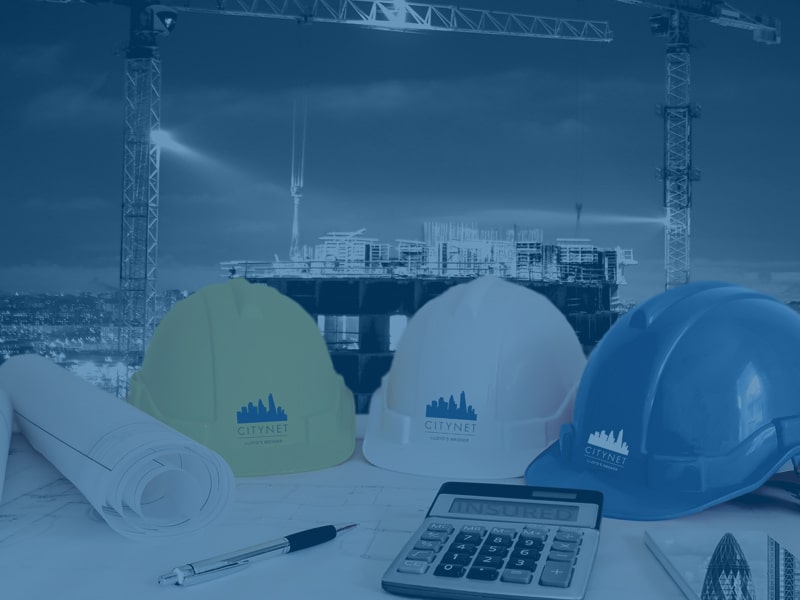 WHAT WE DO
The Citynet Construction Solutions team is committed to delivering the highest standards of professional service. We provide tailored insurance solutions to suit your clients' needs.
Employers' and Public Liability
Contractors' All Risks (CAR)
Hired-in and owned plant
Annual or contract specific
Environmental impairment liability
Directors & officers' liability
Excess of Loss
Professional Indemnity
Motor Fleet
Key Benefits
Only use A rated markets
Quick quote turnaround
One-stop solution for CAR / Plant / JCT 6.5.1
Extensive policy wordings
Restricted agency base
Access to both Lloyd's Syndicates and London Company Markets
OTHER CITYNET SERVICES YOU MIGHT BE INTERESTED IN