Citynet Underwriting Services – Seizing opportunities the market provides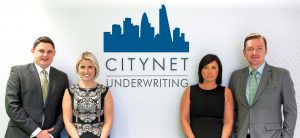 When an Insurance Broker is looking for a service or provider the overall experience will vary significantly depending on the class of Insurance and from one company to another company.
In-house Underwriting enables applications to be carefully considered/customised and will often have an improved chance of approval.  Equally important is the quick turnaround times due to the direct links between client, broker and Underwriter. Any queries can be resolved immediately.
Citynet has long been a leading provider of specialist insurance throughout the UK and Ireland. With an unparalleled level of knowledge, their understanding of their clients' needs and in-depth knowledge of local law and regulations ensures that they can be relied upon to offer expert guidance and advice.
To add to their reputation as a leading broker, Citynet has recently announced that they have their own Underwriting Service. This means that they now have the ability to underwrite your business through Delegated Underwriting Schemes – providing a quick and efficient underwriting service to brokers and managing general agents.  Citynet will also have the ability to create bespoke insurance solutions for standard, non-standard, and the more challenging and unusual risks.
With delegated authority from Lloyd's Insurers and the Company market, they make immediate underwriting decisions cutting down turnaround times to you and, consequently, your customers.
A recent example of this was the launch of their Small Fleet binder in Eire.  Coverage offers a solution specifically designed to help businesses reduce cost, save time, and minimise hassle. By having the flexibility to insure multiple vehicles under one policy, the Scheme allows businesses to create their own bespoke cover.
By trading across the London market, the City-based company are able to offer innovative solutions to the majority of your general insurance needs.
Years of developing close working relationships with trading partners have enabled Citynet to deliver the results required. This is no doubt the main reason that they are confident in placing most risks for any business – frustrating competitors as they consistently outperform them on cover, price and service.
Citynet's philosophy seems to cultivate long-term contracts by bringing customers and their expertise together with strong, performance-related commitments. The combination of having extensive experience across the UK and Ireland have empowered them to establish collaborative relationships with their markets and enabling them to provide a wide range of cover for customers with minimal hassle.
Helping their brokers grow their business and provide excellent cover for their clients is their ultimate goal, and as a trading division of Citynet Insurance Broker Ltd, is able to lean on their reputation as a wholesale Lloyd's broker and place commercial business into the London market on behalf of the UK and Irish intermediaries.
Andrew Walsh, Managing Director at Citynet adds: "By having the ability to write new business in-house means that we can continue to deliver quick and efficient solutions for our clients."
With the launch of Citynet Underwriting, the next stage is to build on their experience and become market leading in every class of business that they write.
For more information about Citynet Underwriting Services and how they can make a difference to your business, please use the following contact details: 020 7488 7950 / underwriting@citynet.co.uk or talk directly to Clare O'Neill – Irish Underwriting Manager co@citynet.co.uk
Read Our Latest Stories
Andrew Walsh is named Chief Executive Officer of Citynet
Read More >>
New brand and new home for COBRA London Markets who join forces to become known as Citynet Insurance Brokers.
Read More >>