Coronavirus – Citynet Business Continuity Plan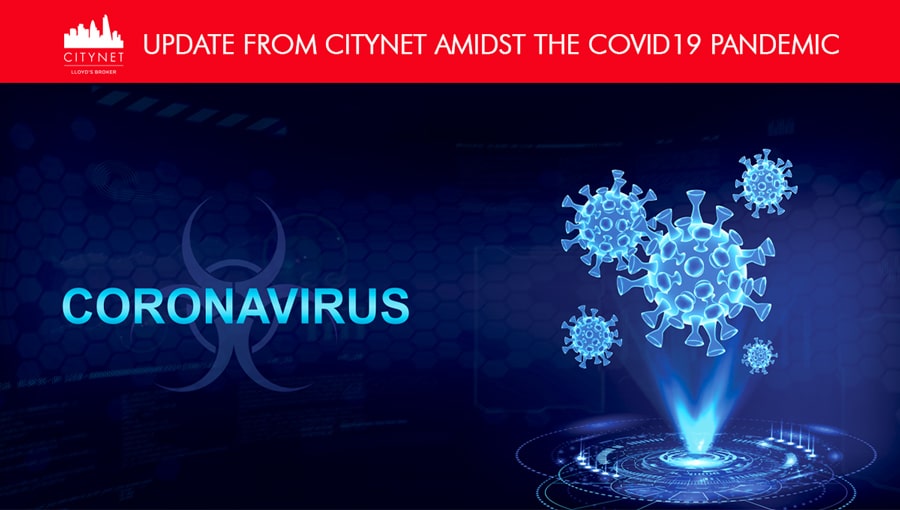 Whilst we are all naturally concerned over the ever growing spread of the Coronavirus, it is of huge importance to us that we are able to fulfil our commitment to you and your policyholders in delivering you with a first-class service.
Our London Market operation has a business continuity plan in place that enables our people to operate from anywhere in the UK by remotely accessing all systems, files, enquiries and communications.
The London Insurance Markets response to this issue varies from Insurer to Insurer but like ourselves, they possess the technology that enables them to bind cover, respond to enquiries and transact their day-to-day business without interruption.
In the unlikely event that your usual day to day contact has to self-isolate, you will receive further communication from us that will direct you to one of our many account executives or handlers that will be ready to assist you with your enquiries or administrative queries.
A copy of this communication will be published on our website which I would encourage you to visit at www.citynet.co.uk, giving you an opportunity to acquaint yourself with the Citynet team and the suite of services that we can offer you and your clients.
Our combined London Market team is one of the largest in the UK Wholesale environment, giving you the comfort that we are capable of looking after your policyholders in the event of a crisis.
Kind regards,
Andrew M Walsh
Managing Director
Read Our Latest Stories
Andrew Walsh is named Chief Executive Officer of Citynet
Read More >>
New brand and new home for COBRA London Markets who join forces to become known as Citynet Insurance Brokers.
Read More >>