Citynet Insurance Brokers sponsors Hatfield Peverel 'A' football team.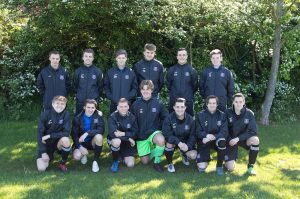 Citynet Insurance Brokers are proud to sponsor yet again Hatfield Peverel football team.
"Although the team had been successful at youth level and with the Club fully behind us, it was decided to move from Youth into a Men's Adult League (Pope and Smith Sunday League). This was always going to be a big step playing against more established and experienced teams. However, the team adapted from day one, continuing to play attractive football and finishing as runners up and promotion for next year" commented Steve Harding – Manager of Hatfield Peverel 'A' Football Team."
 "Thank you so much to Citynet for being sponsors of Hatfield Peverel 'A' football team, enabling squad rain jackets and combi tops to be brought. These have been used not only on match days but at weekly training sessions. As a charity the club, we are dependent on fundraising, subscriptions, and sponsorship to continue to operate and provide the best possible facilities for our players. Many thanks once again for your continuing support of Hatfield Peverel FC" Steve Harding further added.
Here at Citynet Insurance Brokers, we take every opportunity we can to support our community when they need it most. It's a great feeling seeing this youth team moving into the Men's Adult league.
We wish them every success in the future!
Read Our Latest Stories
Andrew Walsh is named Chief Executive Officer of Citynet
Read More >>
New brand and new home for COBRA London Markets who join forces to become known as Citynet Insurance Brokers.
Read More >>