Unite against Dementia for the Insurance Day of Giving!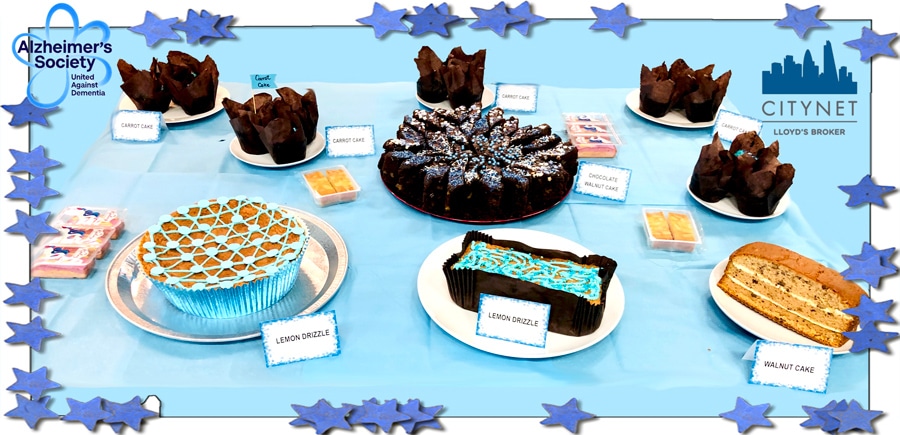 Insurance Day of Giving" gets Citynet Insurance Brokers involved once again in the fight against Dementia.
We have had a tremendous day at Citynet HQ, raising funds for the 'Insurance Day of Giving 2019'.
Almost half of the 300,000 people working in the UK insurance sector will be affected by dementia either directly or through a loved one. Despite this, a great deal of stigma still remains. By bringing dementia into the conversation, we can raise vital awareness and show colleagues that they don't have to face dementia alone.
Last year, the Day of Giving raised an incredible £70,000 for research into the cause, care, cure, and prevention of dementia. This year the goal is £100,000.
This campaign, meant to help people affected, is part of the Insurance United Against Dementia (IUAD) and has now the backing of more than 50 insurance firms. As an Alzheimer's Society initiative, this event is aiming to raise £10 million in the next five years to help fund their world-leading research to improve care and ultimately find a cure against this cruel disease, empowering people affected to live the lives they want.
In the spirit of collaboration, Citynet and PIB Group have united for the second year to raise funds with every employee committed to helping spread awareness of what dementia is, as well as where you or your insurance colleagues can find support if affected by this killer disease.
We are extremely glad to announce that Citynet's together with PIB Group companies have raised a total of £10,000 for this years IUAD.
One Industry. One goal! Let's all unite to take on the 21st century's biggest killer!
Read Our Latest Stories
Andrew Walsh is named Chief Executive Officer of Citynet
Read More >>
New brand and new home for COBRA London Markets who join forces to become known as Citynet Insurance Brokers.
Read More >>