Cyber Solutions

GET YOUR BUSINESS PROTECTED – STAY CYBER SAFE!
Cybercriminals are plotting to breach your network right now… but what can you do to prevent it?
It's a known fact that small businesses are more likely to be targeted by cybercriminals than any other business or organization.
While we only hear about major breaches on the news, we don't get to hear the stories of the businesses that struggle with cyber breaches and cyber-attacks.
Why are small businesses targeted more?
Hackers love to go after small businesses for one very big reason: small businesses are less likely to invest in top-notch or even worthwhile cybersecurity protection or cyber insurance.
The reason comes down to many factors but the two in particular are: lack of resources and lack of knowledge. Of course, this is a wider subject of discussion, as hackers also look at a business's customer base and the type of data the business shares online. Hackers go after targets they can profit from, whether they hold a business's data hostage and demand a ransom or they launch a carefully plotted phishing attack.
Some businesses make it past the attack unscathed, but many don't. Their data might be compromised in one way or another.
So, what can you do about this and how can you protect your business?
First and foremost, you have to realize YOUR business is a target, regardless if you've never been hacked before (it might just mean the hackers haven't gotten to you just yet). Aside from a good business risk assessment, you have to look at getting cyber insurance protection in case an unfortunate situation arises.
To help you with this, Citynet Insurance Brokers provide fully tailored and comprehensive cyber insurance solutions. Our team of experienced professionals is working with a wide number of markets and can put together the right solution for your or your client's business needs.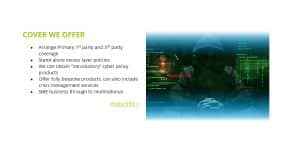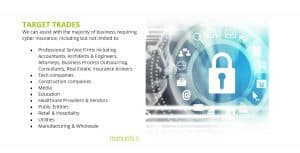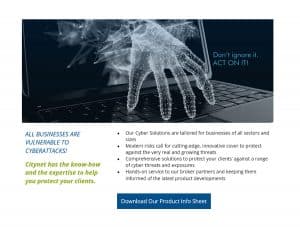 Read Our Latest Stories
Andrew Walsh is named Chief Executive Officer of Citynet
Read More >>
New brand and new home for COBRA London Markets who join forces to become known as Citynet Insurance Brokers.
Read More >>