New brand and new home for COBRA London Markets who join forces to become known as Citynet Insurance Brokers.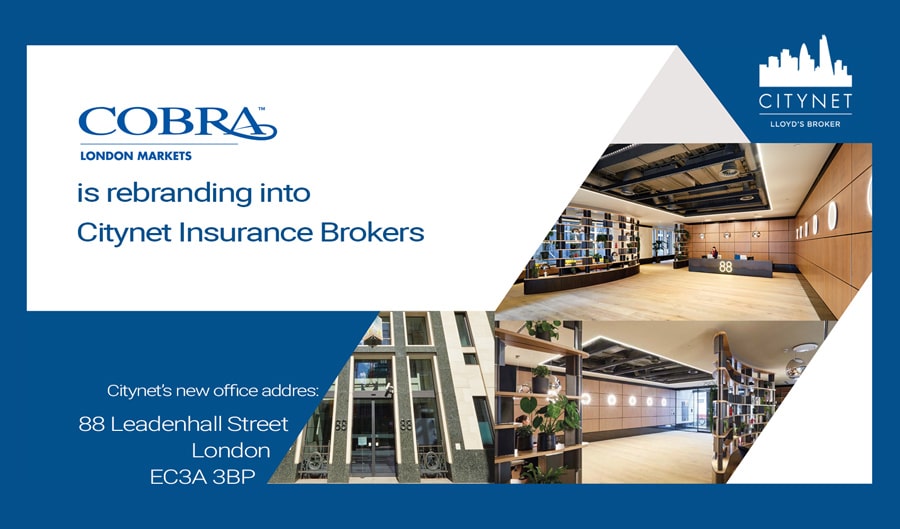 Citynet Insurance Brokers are delighted to confirm that COBRA London Markets will be rebranded into Citynet as of 8th November 2021.
Since November 2019, COBRA London Markets (COBRA LM) has joined forces with Citynet. Sharing the same office space, the two brands have become one strong team working together in anticipation of this rebranding moment. Trading for over 21 years, Citynet has a long legacy and a strong reputation in the London Market.
Joining forces with COBRA LM, which has an equally impressive and lengthy legacy, is a natural next step in their evolution to unify the brands under one name. The move will see the Citynet brand becoming a powerhouse in the London Market and providing all its broker partners with an invaluable customer service and an even broader range of products and services.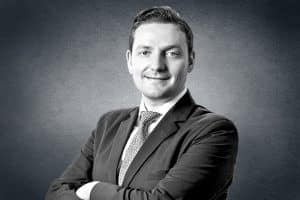 Over the past two years, some of the COBRA LM and Citynet departments had already merged internally to create a stronger offering. The rebrand will unify as one company under the leadership of Andrew Walsh.
By joining our forces, Citynet is making sure that its broker partners will be the first to benefit, by having even wider access to Lloyd's and London Markets and expert advice from its employees that have been trading into the market for decades.
"I am very proud of the heritage provided by COBRA London Markets and I'm equally excited about the future, by presenting our proposition to the market under a single brand," said Andrew Walsh.
The rebranding will be effective from 8th November 2021 for New Business and Renewals issued after that date. For policies which are mid-term, rebranding will take place at renewal, rather than as part of any mid-term adjustment, to minimise disruption for policyholders.
There is no action required on behalf of brokers or policyholders.
While the same team of experts will remain, they will be moving office! The COBRA LM rebranding will coincide with Citynet's office move.
Same contacts but new office!
The business is moving a stone's throw from the current office to the newly refurbished 88 Leadenhall Street, London EC3A 3BP. Please update your records with the new address from 8th November 2021. Phone numbers will remain the same, as will the website address (www.citynet.co.uk)  and social media accounts: LinkedIn, Facebook and Twitter.
About Citynet Insurance Brokers
Citynet Insurance Brokers is a wholesale Lloyd's Broker, specialising in the placement of Liability, Property and Casualty, Professional Risks, Motor Fleet and various associated classes into the Lloyd's of London and London Company market on behalf of UK intermediaries. Citynet also specialises in the placement of sub-delegated binding authorities for our retail brokers. As a major producer of premium into the London market, for more than 21 years,
Citynet is in a strong position to negotiate the very best deals for your clients and offer a genuine alternative to the composite market.
To contact Citynet Insurance Brokers call 020 7488 7950 or email broker@citynet.co.uk
Sincerely,
Citynet Insurance Brokers
Read Our Latest Stories
New brand and new home for COBRA London Markets who join forces to become known as Citynet Insurance Brokers.
Read More >>
#MacmillanCoffeeMorning at Citynet HQ

The #MacmillanCoffeeMorning has become a 'tradition' that started almost 30 years ago, in 1990.
Initially, it was a rather small affair with a simple idea: guests would gather over coffee and donate the cost of their cuppa to Macmillan in the process. It proved to be very effective and since the Macmillan Coffee Morning event has become a yearly 'tradition' raising over £200 million.
Last year alone, this event has raised an incredible £26,914,382 towards this great cause.
On the 27th September 2019, people all over the country took part in an activity that was tasty, fun and also helped raise funds and awareness for a truly worthy cause.
Cancer can be devastating news for anyone. With one in two of us facing this 'enemy' at some point in our lives, the money raised at the #MacmillanCoffeeMorning event throughout the UK will help everyone with cancer to live life as fully as they can.
Here at Citynet Insurance Brokers, all our staff got involved again in the world's biggest #MacmillanCoffeeMorning.
Each and every one of us has made a special effort by baking, buying and bringing in the most delicious treats. As a result, we are very proud to announce that the Citynet Insurance Brokers team has raised a total of £592.74 that will be donated to Macmillan Cancer Support.
Well done everyone and what a team effort!
Let's change lives with every slice!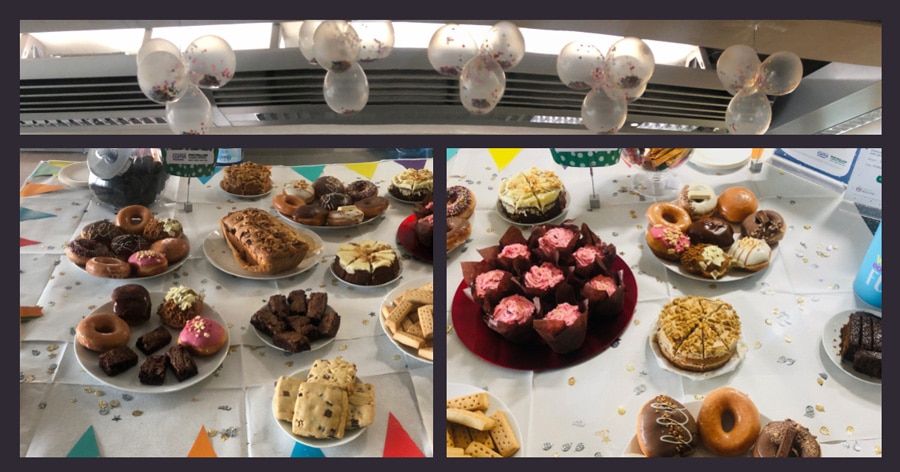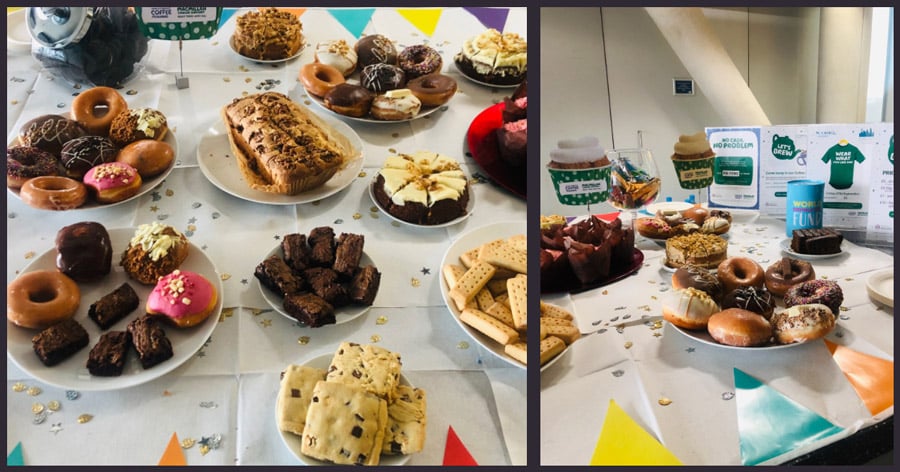 Read Our Latest Stories
New brand and new home for COBRA London Markets who join forces to become known as Citynet Insurance Brokers.
Read More >>
Citynet "Six in the City" tackle #walkthenight marathon challenge!

"Six in the City" #walkthenight marathon challenge!
A team of girls from Citynet Insurance Brokers tackled the #walkthenight marathon (26.2 miles) on 27th July 2019. The team was made up of Mandy Palin, Jan Bett, Emily Renew, Clare O'Neill, Chloe Taylor and unfortunately Laura Hellens had to drop out a couple of days before due to illness (even though she had joined in with all the training). With months of preparation and daily walks behind them, they finally did it and it only took 8.5 hours and 66,700 steps to claim that victory.
They found the #walkthenight challenging and had some hair raising moments along the way witnessing some of London's unique night-time antics, but with each other support, they got there in the end.
The ladies took on the challenge to raise funds for their two chosen charities, Prostate Cancer and CoppaFeel (Breast Cancer). If you would still like to donate to their causes here is their just giving link.
"Your support meant a lot to us and we could not have done it without you," said Mandy Palin from Citynet.
Here at Citynet, we are all very proud of our girls and huge congrats are going their way.
Until next year!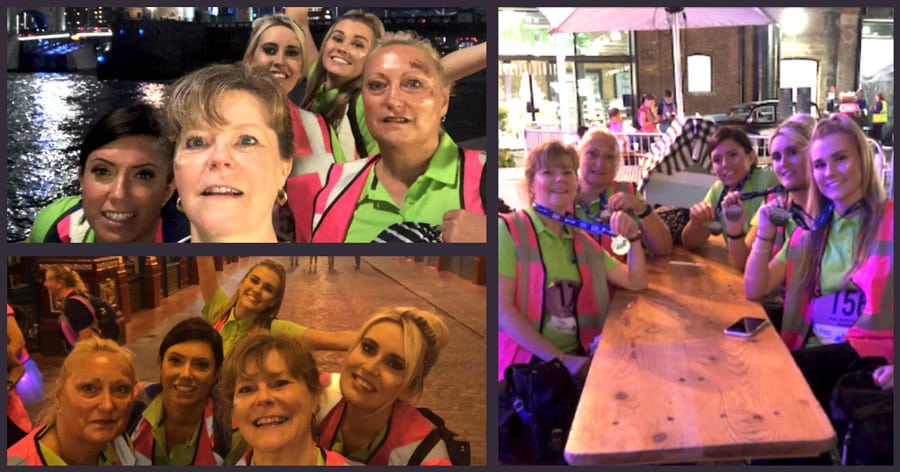 Read Our Latest Stories
New brand and new home for COBRA London Markets who join forces to become known as Citynet Insurance Brokers.
Read More >>
Are you a new broker thinking of becoming Citynet partner? – Here is what to expect!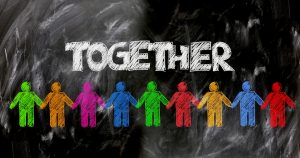 As a new broker interested in working with Citynet Insurance Brokers you may wonder what is in store for you? Well, here is a brief idea of the brave new world. We only work with regulated intermediaries so you should be an FCA, Central Bank of Ireland or equivalently approved broker. Here are the five steps you need to follow:
⇒ First step: Complete our agency application form along with providing your financial accounts and proof of your PI cover.
⇒ Second step: Once the application is approved internally (around a 7-day process) you will receive our Terms of Business Agreement which is GDPR compliant. You will also receive an agency number which means you are set up and ready to place business with us. This covers all business within our five core departments Property/Casualty, Motor Fleet, Professional Risks, Speciality, and Underwriting.
⇒ Third step: As a new broker, you will be assigned your own Citynet Account Executive to manage your account. The Account Executive will be using his experience to access a wide selection of products from A-rated insurers and will be your point of contact for new business, submissions, enquiries, quotes and difficult renewals.
⇒ Fourth step: Each Account Executive is supported by a small team of Account Handlers who will be your day to day contact for renewal information, amendments, invoicing and paperwork. By keeping the teams small, it allows your equivalent team to build up a superior relationship with our team and additionally provide support during busy times and the holiday season.
⇒ Fifth step: You will have access to what we believe are the best claims and finance teams in London.
It is our excellent service, integrity and specialist knowledge that underpins our culture & stands testament to how we handle your business.
And there you have it! Now, what are you waiting for?

Read Our Latest Stories
New brand and new home for COBRA London Markets who join forces to become known as Citynet Insurance Brokers.
Read More >>
Citynet continue supporting the community by sponsoring East Grinstead Rugby Club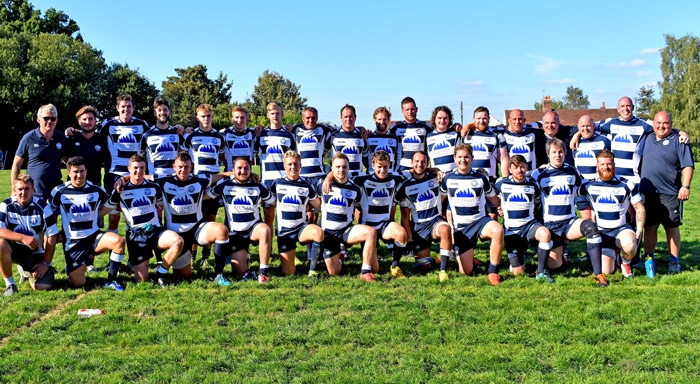 Getting involved in community life has always been very important to Citynet. We are proud to mention our latest sponsorship for the East Grinstead Rugby Club and we wish them the very best of luck in their future games.
East Grinstead Rugby Club was established in 1929 and are one of the largest Rugby Clubs in Sussex.
Operating from superb facilities at Saint Hill East Grinstead in West Sussex, the club is proud of its heritage and Community Rugby ethos.
With 1,600 members, 90 Senior players and over 150 Minis and Juniors, the club consistently field 3 Senior Teams, Ladies Team, girls Team, a mixed touch team and under 6's all the way through to Colts.
"We are particularly pleased to have teamed up with Citynet Insurance Brokers who are our 1st team Shirt Sponsors. Our first Team currently play in Sussex Division 1 and like Citynet, we aim to grow and be as successful as we can.
From all at EGRFC, thank you Citynet."
Andy Poole – President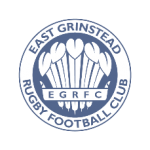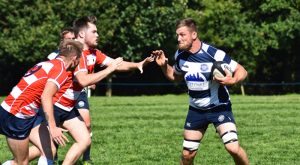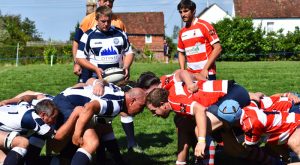 Read Our Latest Stories
New brand and new home for COBRA London Markets who join forces to become known as Citynet Insurance Brokers.
Read More >>
Citynet sponsors under 13's Galleywood Eagles Football Team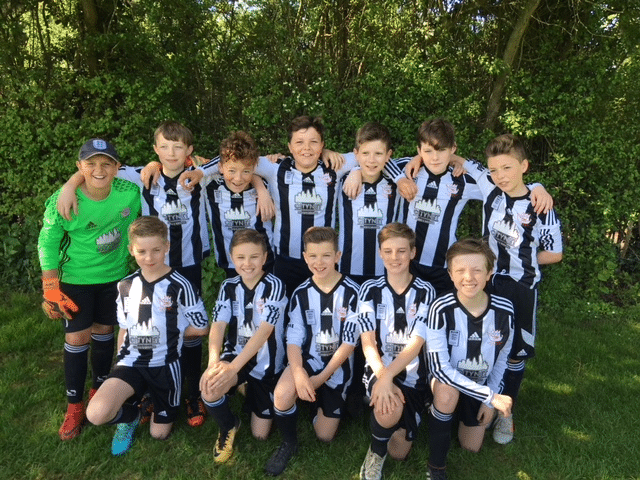 Citynet is proud to renew its sponsorship for Galleywood Eagles under 13's Football Team. Ongoing support of our community has now become a tradition for Citynet Insurance Brokers.
The Galleywood YFC U13 Eagles were formed in 2012 and play their football in the Blackwater & Dengie Youth League which covers Chelmsford and the surrounding areas. As a club, Galleywood YFC is one of the biggest in Essex with over 27 boys and girls teams covering age groups from U7s through to U17s.
Promotion in the 2016-17 season saw the Galleywood YFC U13 Eagles reach the 1st Division for the first time in their history and they were the Broomfield 5 a-side Cup winners in 2016.
The upcoming 2018-19 season once again sees the team in the top division of the Blackwater & Dengie Youth League as they move to the 11 a-side format for the first time.
Read Our Latest Stories
New brand and new home for COBRA London Markets who join forces to become known as Citynet Insurance Brokers.
Read More >>