Citynet exhibited at #BIBAScotland 2019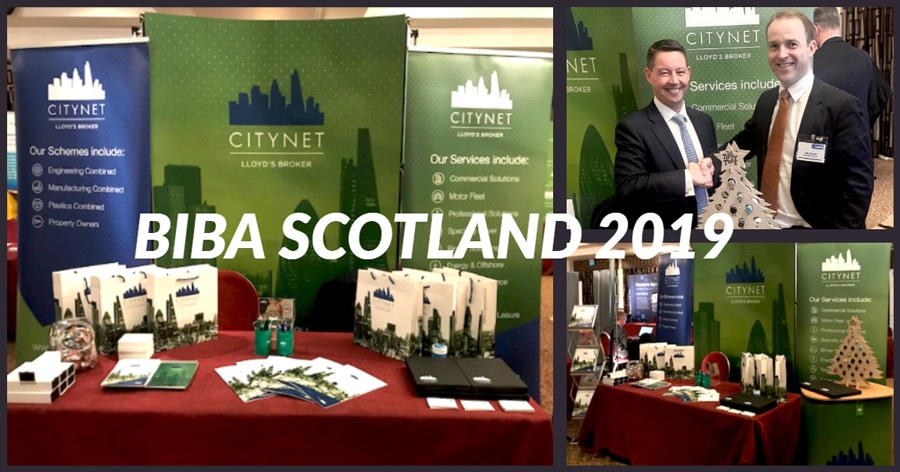 The #BIBAScotland Conference is the only event dedicated to insurance brokers in Scotland. This years' event saw more than 200 industry representatives in attendance and was the perfect opportunity to keep up to date with the latest developments, meet new contacts and conduct business.
Following tremendous successes in the past years, Citynet Insurance Brokers exhibited at the #BIBAScotland for the third year running.
Acting purely as a wholesale insurance broker, Citynet has established itself as a London Market Specialist in the placement of Liability, Property, Professional Indemnity, Terrorism, Cyber, Motor, and various associated classes.  We also specialise in the placement of binding authorities for other insurance intermediaries.
If you are looking for a wholesale broker that has great insight and knowledge of its markets and deliver on their promises, look no further! Citynet will be proud to be Your Trusted Partner!
For further information about our services or schemes please get in touch with our team members below or get in touch with your account executive.
Graeme Flynn – Head of Motor – UK & Ireland   E: gf@citynet.co.uk;  M: 07977 011 433
Matt Carlick – Broking Director E: mc@citynet.co.uk;  M: 07890 545 417
Matt Wadhams – Account Executive  E: mwadhams@citynet.co.uk;   M: 07773 470 813
Hugh Cleland – Insurance Broker  E: hcleland@citynet.co.uk;   M: 07557 343 578
WHO IS THE WINNER?
We are delighted to announce that the winner of our prize draw where a Tipsy Tree Advent Calendar was up for grabs is Mr Tom Aldridge from Blackford Insurance.
Huge congratulations from all of us at Citynet.
Read Our Latest Stories
Andrew Walsh is named Chief Executive Officer of Citynet
Read More >>
New brand and new home for COBRA London Markets who join forces to become known as Citynet Insurance Brokers.
Read More >>